In line with the objectives of Confucius Institute at the University of Hull (CIUH), we are pleased to offer a range of services to schools and colleges across Hull,  East Yorkshire and Northern Lincolnshire.

Regular Activities
Mandarin Classes
Run as part of the school curriculum, or as an after school club, each module lasts for ten weeks at two hours per week. The beginners class teaches basic phrases as well as introducing the sounds used to construct the language,
and some character recognition.
Calligraphy Classes
A ten-week module at ninety minutes per week, which introduces the skills of brush and ink calligraphy for writing Chinese characters.

Chinese Hour
An additional one hour informal session (but with guided activities) where Mandarin learners of all abilities can mix and talk to each other.

Chinese Film Club
A fortnightly showing of contemporary Chinese films
Music classes and training
Already-competent musicians can learn a variety of Chinese tunes – traditional and contemporary – as well as learning to play some simple
Chinese musical instruments.
One-off Activities
Language and Culture Days
Participants learn the basics of speaking Mandarin and learn enough phrases to hold an introductory conversation. The day is interspersed with cultural activities such as calligraphy, paper cutting, tai ji, knotting, tea ceremony, and a musical performance. The purpose of the day is to act as a taster for pupils to consider whether they would wish to take a Mandarin course.
Cultural demonstrations and performances
Demonstrations and performances lasting between one and two hours can be given in any of the cultural activities listed above.
Examination services
Revision sessions for pupils studying for GCSE and A level programmes can be made available as required. Pupils will also be able to take the HSK and YCT examinations at the CIUH examination centre.
School Level Activities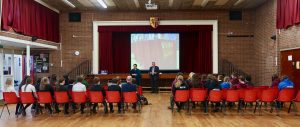 School links
We can help you link up with schools and colleges in China so that pupils can get to know each other through social media and skype/video conference, and learn about education systems and cultures from each other.
Chinese Choir
Drawn from your own choir we can help you put together a Chinese Choir to learn to sing in Mandarin and perform at an appropriate school event, a CIUH event, or in an annual Mandarin singing competition.
Staff training
Using the Language and Culture Day as the basis, we can put together a team building exercise for your teaching staff. Also, we can assist if you would like to hold a local/regional conference at your school on innovative ways of teaching and learning
Chinese language and culture.
Summer camps
We can assist you to arrange a summer camp in China with an associated school or through our partner university.
Confucius Classroom
We can work with you to prepare an application to establish a funded Confucius Classroom on your premises.