With Apologies as of March 2022
Chinese Film Club still remains effected by COVID. Unfortunately we are still waiting on our replacement teachers to come over from China, and as such do not currently have enough staff to run Chinese Film Club. We will continue running Chinese Language classes though, and hope to have Chinese Film Club back in September 2022!
Announcement
Following the guidance of the Department of Health and Social Care and Public Health England, and the Government announcement  to stop non-essential contact with others and to work from home where possible, we have decided that all our classes and activities will be suspended with immediate effect.
Our sincere thanks for your understanding and patience as we all face this considerable challenge.
To complement our updates, please actively check and follow Government advice which includes guidance to protect yourself and about travel.
Chinese Film Club – Wednesdays 6-8.30 pm – Free to attend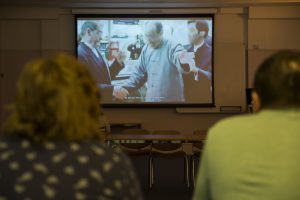 Every semester, we offer a number of film screenings for those who are into Chinese culture as well as movies. These sessions take place in our Confucius Institute base at the Dennison Centre.
At the end of each screening, there is an informal lecture/discussion. Everyone is encouraged to talk about the film, share ideas, and ask questions.
All are welcome. No need to book, just turn up.
Fortnightly sessions starting at 18:00-20:30.
11th March 2020  The Hidden Soldier 烽火芳菲
25th March 2020  Mulan 花木兰
More dates will be confirmed…
Location: Tianjin Room, Dennison Centre, Cottingham Road, Hull, HU5 2EG
Please ring 01482-462197 or email ciuh@hull.ac.uk for further details.