Past and current events
February 2020
Confucius Institute engages local community with Chinese New Year

The university's Confucius Institute held a special workshop on 31 January in the Courtyard kitchen on campus, and invited students and the community to take part.Under the expert guidance of Confucius Institute staff, participants made a variety of dumpling shapes to help mark the arrival of the Chinese year of the rat. One student said of the event: "I was impressed that Chinese family will gather together to make dumplings – what a lovely and warm family time."
Professor Marina Mozzon-McPherson, director at the Confucius Institute said: "It is so important to us that students at the University are given the opportunity to learn about and experience different cultures."We were delighted with the response we received at the recent dumpling workshop – so much so we have arranged a second session."Participants showed a real interest not only in making dumplings, but understanding the culture that surrounds them."
In Chinese culture, dumplings – known as Jiaozi – are small pastries which also include a filling. They are a staple of traditional Chinese culture, and are a popular food enjoyed during the New Year festival.As well as getting to grips with rolling pastry wrappers, adding fillings and pinching the dumpling edges, participants at the event also learnt about Chinese culture and New Year traditions.A second dumplings workshop will be organized in the spring.
If you are interested, register your interest with the university's Confucius Institute by contacting ciuh@hull.ac.uk.
January 2020
A delicious way to mark the start of the Chinese New Year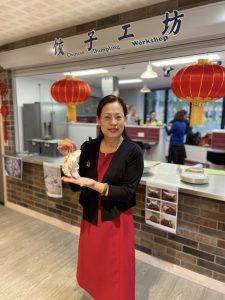 The university's Confucius Institute held a special workshop on 31 January in the Courtyard kitchen on campus, and invited students and the community to take part.Under the expert guidance of Confucius Institute staff, participants made a variety of dumpling shapes to help mark the arrival of the Chinese year of the rat. One student said of the event: "I was impressed that Chinese family will gather together to make dumplings – what a lovely and warm family time."
Professor Marina Mozzon-McPherson, director at the Confucius Institute said: "It is so important to us that students at the University are given the opportunity to learn about and experience different cultures."We were delighted with the response we received at the recent dumpling workshop – so much so we have arranged a second session."Participants showed a real interest not only in making dumplings, but understanding the culture that surrounds them."
In Chinese culture, dumplings – known as Jiaozi – are small pastries which also include a filling. They are a staple of traditional Chinese culture, and are a popular food enjoyed during the New Year festival.As well as getting to grips with rolling pastry wrappers, adding fillings and pinching the dumpling edges, participants at the event also learnt about Chinese culture and New Year traditions.A second dumplings workshop will be organized in the spring.
If you are interested, register your interest with the university's Confucius Institute by contacting ciuh@hull.ac.uk.
December 2019
Christmas tree with a Chinese twist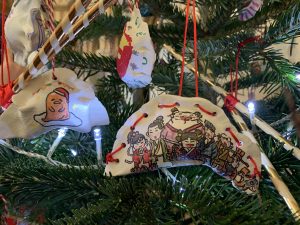 The Confucius Institute was very proud to be sponsoring a tree once again for the famous Beverley Minster Christmas Tree Festival. This is part of the Institute's engagement with the local community. The theme of the tree this year was Chinese dumplings. The dumpling tree was not only viewed by thousands of visitors, but also featured in a live interview broadcast on BBC Radio Humberside.    
Chinese dumplings, known as Jiaozi in Chinese, are one of the staples in Chinese cuisine particular for communities in the northern part of China. The Confucius Institute team decided to dress their tree using Chinese knots, chopsticks and dumplings. They could not hang edible dumplings on the tree of course but in this case made them with clay.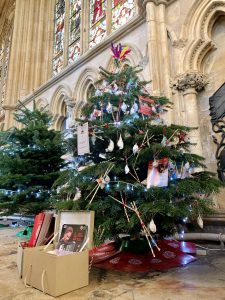 The team asked their language students, undergraduate students from the University, as well as pupils from Howden School and Snaith School to get involved. Between them, they decorated the clay dumplings with drawings, brush paintings, doodles and greetings. From lumps of plain clay to colourful plump dumplings, these unusual baubles added a festive spirit with a Chinese touch. Every single dumpling was unique, and bursting with creativity and fun.
On the first day of the Christmas Tree Festival, which featured over 90 trees at Beverley Minster, the Confucius Institute was among a small handful of organisations featured live broadcast on Phil White's Afternoon Show on BBC Radio Humberside. The team talked about their continuing involvement with the Festival, and what Christmas meant to Chinese people, as well as the language programmes they regularly run for the local community. The media interest has once again put the Institute on the map.
November 2019
A Christmas Tree Tale – A British student's 40 year old story of his China experience
Text by: Yu Hongshan       Translated by: Jack Davies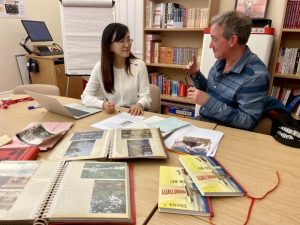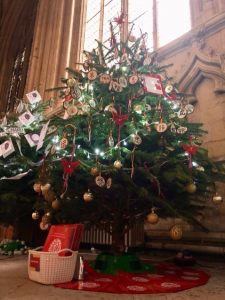 In East Yorkshire, December 2018, Beverley Minster hosted a Christmas Tree Festival. One particular tree played host to some unusual decorations, which were neither the normal Christmas baubles or white snowflakes, this tree was covered in Chinese calligraphy and paintings.
What do you notice of when you look at this Christmas tree? Li Bai?  Du Fu? Or the simpler " ni hao" "xie xie" or "xin nian kuai le".  In the mind of Ian, a 60 year old British student of the Confucius Institute at the University of Hull, this tree awakens long dormant memories of the 40 years he spent living in China.
Three months after the Christmas Tree Festival, Ian arrived at the Confucius institute and used fluent Mandarin to explain to us all that on seeing the tree's beautiful Chinese characters it had made him very excited. As such in the following year Ian brushed up on his Chinese skills and now is well prepared to discuss his bond with China.
From a time gone by – A British Scholars story of studying in 1980's China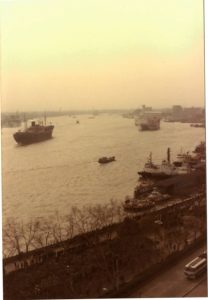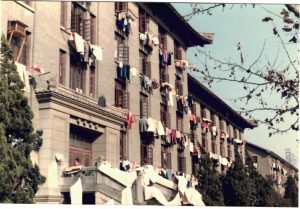 "My name is Ian Champion , and my Chinese name is 陈奕恩." Ian explained the first time I met him. 37 years ago, Ian had graduated from London SOAS University having read Chinese History.  Ian enjoys reading ' The Analects of Confucius' and is fascinated by the 'Taiping Heavenly Kingdom'.  Ian's dream is to become the UK's most outstanding Chinese History Scholar.  In Autumn of 1982 Ian was fortunate enough to be the recipient of a scholarship from the British Culture Council, and was able to go to Peking University to study Chinese Language and History.  In this time however, Ian was only able to say hello, thankyou and goodbye. In Autumn of 1993 Ian took up the opportunity to become an English teacher at the Agricultural University of Nanjing. Through this teaching opportunity, Ian was able to practise his Chinese speaking with the 20 or so Agricultural students he taught that came from all areas of China. In these two years in Nanjing, Ian became like a bookworm, studying all of the fundamental aspects of Chinese language, including listening, speaking, writing and reading. Ian proudly told me "From my time studying in Nanjing, the thing that gave me most satisfaction was my command of the local dialect, Nanjing Hua. This allowed me to translate Nanjing Hua (dialect) to Mandarin (standard Chinese) for my Beijing friends. I really thought I was excellent!"
In total Ian lived in China for 6 years including Nanjing, Taipei and Hong Kong. In addition to this Ian went to many places on holiday, including Beijing, Nanjing, Xian, Chongqing, Kunming, Qingdao, Dunhuang, Xiamen, Shanghai, Hohot, and Lanzhou. All in all, vesting 20 provinces, autonomous regions and provincial level cities. Throughout his travels Ian tried all sorts of different Chinese food, his favorite being GongBaoJiDing and LanZhou LaMian, both of which he cannot mention without salivating.
In his travels Ian was a keen photographer, particularly keen on documenting early 1980s Chinese society. Ian was very prolific, and his collection would be large enough to start a gallery! These photos include Beijing University in 1982 and the Bund in Shanghai, children doing their homework on small tables at the side of the street, as well as the smiles of elderly farmers happy after the completion of their harvest. Ian really loves music, and whist studying at Nanjing University, he would often travel to Shanghai to listen to its famous Jazz scene, or to the Shanghai music academy to listen to Bach or Beethoven.
Letters from a distance demonstrates Sino British Friendship
In 1983 a 'big nosed' foreigner still attracted a lot of attention in and around Shanghai's Waitan. Ian said "In those days because there where few foreigners in China, Chinese people were very interested in them. They would often ask 'Where are you from? Britain? Britain is a really great place! Because Marx wrote Das Kapital in London, you really do resemble him!' " It was in this manner, that friendly and talkative Ian, made many Chinese friends, who would always invite him to their houses for Spring Break. This was the time of China's reform and opening up, and as a result of the peaceful development encouraging Chinese people's enthusiastic friendship, this period left a deep impression on Ian. In recording this period, Ian sent 150 letters of correspondence to his Father and managed to fill eight photo albums with his photography of China. Through doing this Ian wanted to introduce his British friends to the real China, as well as teaching British culture and history to his Chinese friends. In this way Ian became the 'British – Chinese people's ambassador'.
40 years after, Ian still hasn't forgotten his China dream
In 1988 having returned to the UK, Ian planned to gain a professional qualification in teaching, so that he could return to China to teach.  Unfortunately, due to some personal health reasons, this wish would not materialise. Learning Mandarin and returning to China seemed like an unattainable dream. Ian was forced to put his Chinese dictionary and beloved photo album into the dusty attic.
Currently Ian lives in Beverly, North Yorkshire and is a retired primary school teacher and a loving father to two children. With the passing over time, Ian found himself at Beverley Cathedral, looking up at the beautiful lights of the 70 decorated Christmas trees. Each Christmas tree decorated by a different primary school or local organization. As he looked at each and every one of these beautiful trees, Ian slowly admired them, until arriving at number 23, whereby his feet stopped. This tree was full of characters, but not only that, Chinese characters. How could it be, that Chinese characters had appeared in North Yorkshire? Ian did not believe his eyes. The beautiful lights of the Christmas trees were not only illuminating the dark night sky of Beverley, but also the dusty 40 year old memories of Ian's cherished experience in China.
A few days later, Ian having signed Hull Confucius Institutes 'introduce yourself book' I contacted him to encourage him to restart learning Chinese. On return to Mandarin class to start at HSK 4 level, Ian noticed not only was his Mandarin language ability slowly returning, but that of his cherished memories.  At the home of his now 91 year old Father, Ian managed to find the 150 letters he had sent, as well as the photo collection and the old dictionary to once again use. Ian's greatest wish is to be able to one day return to China, and to return to Nanjing, so he can see for himself what 40 years of reform and opening up has achieved.  In doing this achieving his own 'China dream'.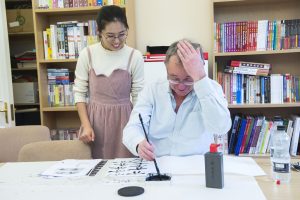 I, having been born in 1983, could never have imagined I would meet a British person with such vast and extensive experience and travel history in China, as well as a with an appetite to keep studying Mandarin and experience Chinese culture. In 2017, I myself came to Hull Confucius Institute, to accept a position as teacher. Due to this kind twist of fate, I got the opportunity to meet Ian and continue this story of British-Sino friendship.
The Hull Confucius institute opened in January 2016, thanks to a partnership between Tian Jin Normal University and the University of Hull. The collaboration helped the many schools that are in the North of Yorkshire, who have established long term Mandarin programmes. In the three years since the institute has been established over a 1000 students and members of the general public have enrolled and have gained experience of Chinese culture and language.
October 2019
Ambitious Outreach Programme for Chinese Inspires Success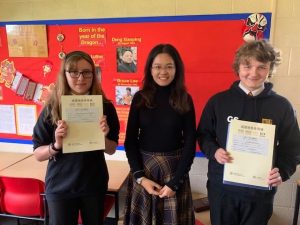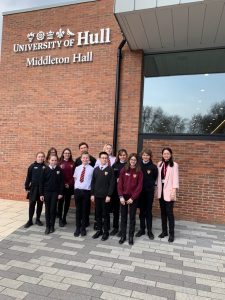 After less than one year of Chinese lessons with teachers from our Confucius Institute, a group of students from Howden School took the Hanyu Shuiping Kaoshi (HSK), a prestigious international test of Chinese proficiency. Not only did all students pass this challenging test but two of them achieved very high scores with 179/200.
We been cooperating with Howden School to integrate Chinese language and culture through a range of innovative and creative projects such as Chinese Whispers™ (learning Chinese through choral singing) and Chinese language and culture classes.
Starting as an extra-curricular project, this ambitious outreach programme is now becoming part of their mainstream teaching which will make Howden School the first Confucius Classroom Hub of the University's CI in the course of 2019/20. The Hub will deliver Chinese to all the schools belonging to that specific Academy Trust with an increased number of schools and pupils choosing to study Chinese in the East Riding of Yorkshire.
In a national context where languages are struggling to maintain their attractive position within the school curricula, the introduction of Chinese as an additional language to their European languages portfolio is proving to be a positive strategy in schools such as Howden, which recognises the growing importance of Chinese language and culture as a future academic degree pathway and currency for new job opportunities.
We have also applied to become a regional HSK centre. Over the course of 2019 over 100 students have taken HSK exams at the University.
Vicki Brownlee, Head of Languages at Howden School, commented: "I was thrilled to hear this fabulous news and proud of the students. The one-hour after-school Chinese class every week brought many students who are fascinated by Chinese language and culture together. Learning a language is not just being familiar with another language, but understanding well about another culture and opening a window to the world."
August 2019
Mind the Culture Gap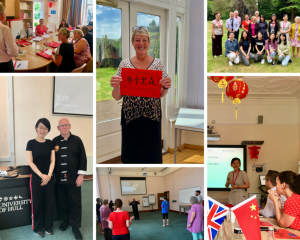 It has been a busy but rewarding summer for the Confucius Institute team, as they delivered a couple of tailor-made mindful and practical sessions to Health Sciences. The collaborations were to help equip colleagues with the language skills and a cultural understanding that they need when dealing with students.
A bespoke Chinese language and culture day was designed for a group of colleagues who are involved in the dual award nursing honours degree partnership between the University and Yangzhou University (China). Delivered by the Confucius Institute team, the session provided insights into the Chinese education systems, student culture, as well as knowledge about China and its language. These were designed with the nursing degree team in mind, helping them to achieve a much better understanding of the students and partner university that they deal with on a regular basis.
Dr Amanda Lee, Associated Dean (International), was one of the participants who helped facilitate the workshop. She said: "Learning about China's geography, history, language and culture was extremely interesting. After this event, our staff now feel ready to deliver culturally sensitive and appropriate support to our Chinese students and visitors. The Confucius Institute have equipped us with a few common phrases – which will help us when travelling through China to deliver our University of Hull dual award transnational education nursing degree".
Prior to the Chinese language and culture day, a couple of Taiji (Tai Chi) sessions were also offered to Health Sciences by the Confucius Institute, as part of the programmes run during the Faculty Forum that aimed to promote resilience, health and wellbeing standards, as well as helping colleagues to deal with distressed students. The Confucius Institute's volunteer Taiji tutor Ken Webster led on the sessions and designed some exercises that involved deep breathing and relaxation with flowing movements. Joanne Carrison, one of the participating delegates of the Faculty Forum, said: "The facilitator [Ken] was very knowledgeable and although this was my first experience of Tai Chi, I hope it won't be my last".
To learn more about the Confucius Institute and its programmes, please contact ciuh@hull.ac.uk or visit www.hull.ac.uk/confucius.
May 2019
Chinese Whispers™️3 takes the stage!
 An empowering, inclusive and progressive way to learn Chinese

The University's Confucius Institute (CI) took to the stage its third Chinese Whispers™️concert attended by over 300 people from the local and international community.
This year's concert focused on community engagement and saw creative performances from young children of Nafferton Primary School to secondary pupils of Howden School and a Beverley Community Choir. All performers were ably trained and directed by the Confucius Institute's Music and Mandarin teacher, Ma Ruiyang, and were supported by music colleagues in the School of Arts and language teachers from the Confucius Institute and Chinese Studies.
All performers raised to the challenge of learning new language and culture skills through Chinese songs with remarkable and moving results.
Entering its 3rd year, the Chinese Whispers™️ concert continues to celebrate its transformative approach of teaching Chinese through music. Held in the Middleton Hall, the interdisciplinary event included a rich variety of performances also involving University students and academics.
The concert took place in conjunction with the visit of a senior delegation from Tianjin Normal University – close international academic partner of the University –  and from the Chinese Consulate General (Manchester) who commented on the high quality and originality of the performances.
Professor Burgess, Deputy Vice-Chancellor, who attended the event, commented: 'The Chinese Whispers™️ concert is a concrete example of the value of partnership amongst academics, students and the local and global community. It delivered an  enjoyable intercultural and interdisciplinary programme to a large  audience, and brought together people from different cultural backgrounds and age groups, creating a truly empowering and inclusive experience for students, staff and the wider community'.
To learn more about the Confucius Institute and the Chinese Whispers™️ project, please contact ciuh@hull.ac.uk or visit www.hull.ac.uk/confucius
-End-
February 2019
Confucius Institute in the media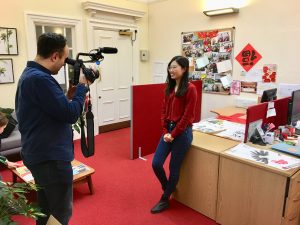 February marked a busy and fruitful month for the Confucius Institute (CI). Its rich variety of Chinese New Year events not only built bridges to engage with the University community and members of public, but also attracted media attention.
During the month-long celebration period, CI members of staff were invited to attend interviews with BBC Radio Humberside's Breakfast show and Culture Night show, talking about Chinese New Year and its customs and culture. The CI's popular Chinese Calligraphy course and traditional spring couplet writing were also featured in a video on the BBC's social media platform.
Entering its third year since it was founded in 2016, the Confucius Institute has made more then 10 appearances on the press. This has resulted to an increasing number of requests and academic collaborations made by other local communities such as schools, interest groups and organisations. With its Chinese expertise and knowledge, the CI is proud to be the first port of call when it comes to raising awareness of language learning and cultural understanding.
Professor Marina Mozzon-McPherson, Director of the Confucius Institute, said: 'It is positive to see how the increased interest for Chinese language across the region, embracing all sectors from primary and secondary schools to local business and the wider community, matched by now a good presence in the media too. We have more interesting cultural events in the months to come which we hope will attract equal interest!'
To learn more about the Confucius Institute, please contact ciuh@hull.ac.uk for further details.
December 2018
The "Chinese Calligratree" on Display at
Beverley Minster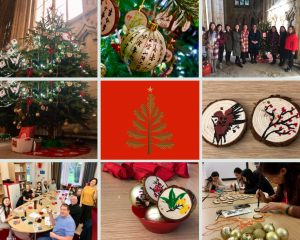 For the second year in a row the Confucius Institute took part in the Beverley Minster's Christmas tree sponsoring project. More than 6,500 visitors saw the Chinese Calligratree which celebrated the ancient art form of calligraphy. University students and learners of Chinese attending our short courses were invited to add Chinese calligraphy and ink paintings onto traditional western baubles. The result was a magic fusion of Eastern and western culture that captured lots of attention.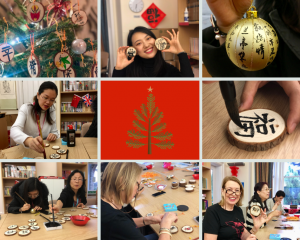 Soon after the event, a Christmas card featuring one of the photos of the Chinese Calligratree was created.
We takes this opportunity to wish all our students and supporters a very joyful and peaceful Christmas and a Happy 2019 (The Year of the Pig).
September 2018
University of Hull signs multilateral agreement with Tianjin Normal University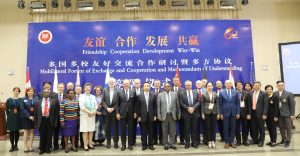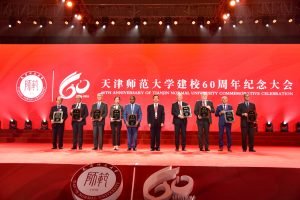 A delegation of the University of Hull, led by Deputy Vice Chancellor Professor Glenn Burgess, has recently been invited to attend China's Tianjin Normal University for their 60thAnniversary celebrations.
Alumni, current staff and students, representatives of Tianjin Normal University's partner institutions, and their Confucius Institutes took part in an impressive two-day celebratory event reviewing the University's achievements and marking their commitment to future developments aligned to their priorities of excellence and innovation, internationalisation and academic partnerships.
Tianjin Normal Universityhas over 30,000 students, including over 4,000 Postgraduates. It is ranked as one of China's best teacher training universities and has a long established track record of excellence in subjects including Education, Chinese Language and Literature, Political Science and History.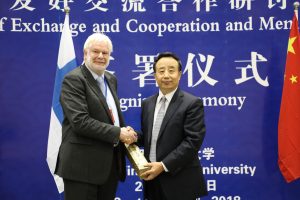 The celebrations were opened with the formal signing of a multilateral agreement including Hull among the 9 partner universities. Other signatories included the universities of Saskatchewan (Canada), Nairobi (Kenya), Bansomdejchaopraya Rajabhat (Thailand), Finland University, Heidelberg University (U.S.A) and Nicholas Copernicus University (Poland).
Facilitated by our Confucius Institute, academic partnerships are now being explored with a range of subject areas. Student and staff exchanges are being strengthened. One visiting scholar from Applied Linguistics has recently been welcomed at Hull and a second scholar from TNU History Department is planning to join the University in the course of the 2018/19 academic year.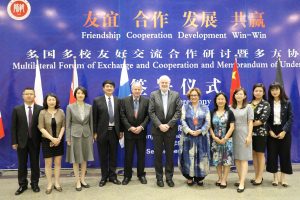 Professor Burgess commented: 'It was a great pleasure to have attended Tianjin Normal University's 60th celebrations, and to collaborate with such a dynamic, global institution. We look forward to building from our existing constructive links and to exploring new opportunities in teaching, scholarship and research.'  
To learn more about the Confucius Institute and its programmes, please contact the team at ciuh@hull.ac.uk
July-August 2018
Summer Offerings from the Confucius Institute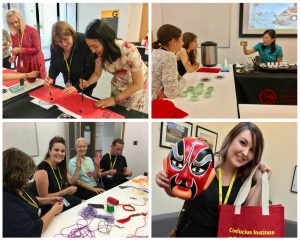 The Confucius Institute (CI) has had its busiest summer so far, providing a variety of tailor-made programmes to colleagues, graduates, prospective students, and young people across the region. These sessions were beneficial to those who wished to expand their knowledge and experience of a different culture, and those who needed support with their Chinese language practice whether in a business or an education context.
Striving for an approach which is people-centred, and mindful of diversity, the Confucius Institute is proud to serve as a dynamic centre for language learning, as well as a window to Chinese culture, open to all. In June, by popular demand, the CI designed a special Chinese Language and Culture Day to 14 members of staff from the FACE Student Hub and Student Services Directorate.
During the July graduation week, the CI teamed up with the Education Department, and conducted a campus tour to a group of distance-learning graduates who came to attend their graduation ceremonies from Hong Kong. This was followed by another cultural event tailored exclusively to Brynmor Jones Library staff, as part of their professional development programme.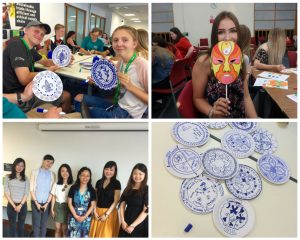 Throughout July, the Confucius Institute has also worked with School and Colleges Liaison Service, and provided an array of interactive outreach activities to groups of aspiring students. More than 160 young people joined our taster sessions and had a chance to learn some basic Mandarin as well as making traditional Chinese arts and crafts.
"The sessions delivered by the Confucius Institute have been a wonderful addition to our Taste of Uni days, aimed at Year 10 students from across Yorkshire and Humberside. The sessions have been informative and engaging, and have helped raise awareness of studying languages in Higher Education." said Vicki Russell from the School and Colleges Liaison Service.
Finally, the Confucius Institute was one of the exhibitors at the EU-China Symposium on Renewable Energy, Energy Efficiency and Phase Change Energy Storage Technologieswhich was attended by some 150 delegates from China and all over the world. Once again this was a distinctive presence at a prestigious academic event illustrating our contribution to support good relations between UK and Chinese institutions.
And the interest in our Confucius Institute's Chinese Language and Culture activities continues throughout the summer months when our CI will participate in a summer crafts day for children hosted at the beautiful Burton Constable Hall. The crafts day will take place on 17 August. During the STEM Immersion Week, on 17 September, four Mandarin teachers from our CI will assist with interpreting for a large group of Chinese children who will visit the STEM event and attend a series of programmes with Computer Science.
Professor Marina Mozzon McPherson, Director of the CI, said: 'Our Confucius Institute with its distinctive focus on innovation and creativity and its coherent programme of activities linking teaching, outreach, research and enterprise continues to make its presence felt within the local and academic community and plans for 2018 include even more exciting initiatives.'
To learn more about the Confucius Institute and its programmes, or to discuss a potential collaboration project, please contact ciuh@hull.ac.uk or visit www.hull.ac.uk/confucius
June 2018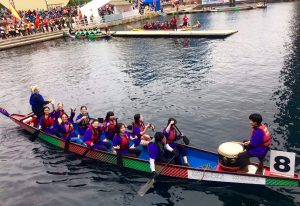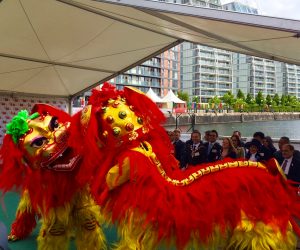 CI Team Enjoy the Rowing Success at Salford Quays
The Confucius Institute at the University of Hull (CIUH) team joined hundreds of daring paddlers to compete in the annual dragon boat race at Salford Quays on Sunday 17 June.
Teaming up with three other Confucius Institutes, the CIUH team took to the water and raced against 31 boats that were each made up of 10 paddlers and a drummer.
Supported by the Consulate General of the Peoples Republic of China in Manchester and organised by Xinhua Chinese Association, the event attracted thousands of spectators who enjoyed the race and Chinese cultural performances, such as dragon dances and martial arts displays.
Dragon boat racing started in China about 2,000 years ago. It was introduced to the UK in the 1990s as a community activity, and later developed into a water sport that attracts visitors from far and wide.
May 2018
Students and Supporters Enjoy a Range of Springtime Programmes
It has been an amazing springtime for the Confucius Institute. Three major programmes were run smoothly and successfully, thanks to everyone who took part and supported us in many different ways. More to come this summer!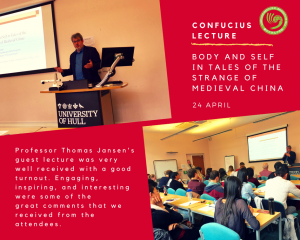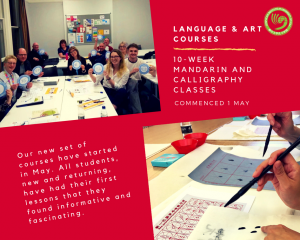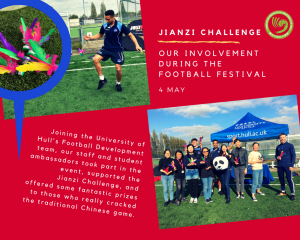 April 2018
Chinese Studies student
wins national proficiency award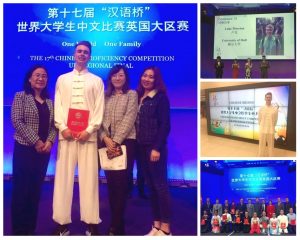 Luke Moreton, a final year student, was handed the Most Knowledgeable award at a national Chinese proficiency competition held in London thanks to a joint effort by the School of Histories, Languages and Cultures, and the Confucius Institute.
Chosen by his course lecturers to enter to the semi-final of the 17th Chinese Bridge Chinese Proficiency Competition for Foreign College Students—UK 2018, Luke received guidance and tutorials by the Confucius Institute teachers only two months prior to the competition.
The event took place at the Queen Elizabeth II Centre in London. Luke beat more than 30 contestants and won the Most Knowledgeable award, demonstrating his Chinese language proficiency skills, knowledge of China, as well as a comprehensive range of abilities and expertise through a cultural performance.
Luke commented: "I am honoured to have represented the University of Hull in the Chinese Bridge competition. It was such a great experience to be able to meet other students from across the country who have shared similar experiences of living in China and learning Chinese. Mandarin is possibly the most difficult subject I have ever studied, but that is also why I love it so much; there is always more to learn and the rich culture that comes with it is absolutely fascinating. I'd also like to thank the Confucius institute at Hull for all their help in preparing me for the competition."
Yu Hongshan, one of the Confucius Institute Mandarin teachers who mentored Luke throughout his Chinese Bridge journey, said: "When I first met Luke, he already showed very good Chinese proficiency. As a bright, young person who is hard-working and has travelled to China many times, Luke had a good chance to win. I am very glad he did win the award; he definitely deserved it."
The Chinese Bridge Competition is a high profile international contest organised by the Confucius Institute Headquarters (Hanban). Since its launch in 2002, this annual event has attracted more than 300,000 HE students from over 80 countries to participate in the competition, of which more than 1,200 have been invited to China to attend further contests.
This year's event offers additional unique career-seeking opportunities for students who have Chinese language proficiency. To this purpose, Managing Directors and HR Directors of leading UK based Chinese enterprises and companies were invited to attend the event, meet the able contestants and winners and create formal, and informal, contexts for potential work experience, and internships.
Luke's win has no doubt opened up his future career pathways. It has also enriched his experience as a degree student in the University. Luke and other winners were invited to a reception at the Chinese Embassy in London providing further access to useful networks.
To learn more about Luke Moreton and his Chinese Bridge journey, please contact the Confucius Institute.
March 2018
The Chinese Whispers Concert hits the right note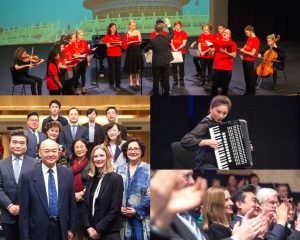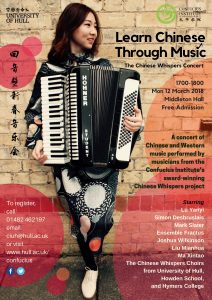 To mark the traditional Chinese spring festival, the University's Confucius Institute launched a debut concert held at the Middleton Hall that attracted more than 350 people. The audience enjoyed an array of Chinese and western music and songs performed by staff, students, and local school pupils. To everyone's surprise, the Chinese Consul General sang a song as a finale to mark the close of the evening.
The concert on 12 March featured three choirs of non-Chinese speakers trained to sing in Chinese. Two of them are from local schools, as well as the Confucius Institute's Chinese Whispers Choir. It also featured works by staff and students who performed in Beijing and Tianjin last summer, including pieces at the Temple of Heaven Echo Wall. It showcased the first results of the Institute's work in the University and the community to innovate in the teaching of Chinese.
The Vice-Chancellor Professor Susan Lea attended the high profile musical event and commented: "The concert was very enjoyable and I was impressed by the enthusiasm of the performers. It was a privilege to welcome Dr Sun Dali, the Chinese Consul General, and to hear him sing so beautifully as part of his closing address. The concert provided an opportunity to showcase the excellent work of the Confucius Institute, and the Chinese Whispers project in particular, in promoting understanding of Chinese language and culture."
The Chinese Whispers Concert was another positive outcome of the Confucius Institute's award-winning project (Higher Education Academy – Collaborative Award for Teaching Excellence 2016), which seeks to teach Chinese language through the medium of music and singing.
A brainchild of Professor Marina Mozzon-McPherson, Director of the Confucius Institute, the project started as a collaborative project involving academics from two disciplines (music and languages), diverse cultural backgrounds, various professions (choir master, composers, music conductors, teacher trainers and technicians), and different stages of the educational journey (students, teachers, lecturers and professors). It is now extended to include schools as well as other musicians and linguists outside the academic community.
"The concert was a powerful example of creativity, interdisciplinary collaboration and innovation in action and it is already generating a ripple effect amongst colleagues and in the wider community. Following this positive engagement we are now planning our next Chinese Whispers event. Watch this space.", said Professor Mozzon-McPherson.
Staff, students and University partners are welcome to join the Chinese Whispers. To find out more about the project and the work of Confucius Institute, please visit www.hull.ac.uk/confucius or email ciuh@hull.ac.uk
–end–
February 2018
Celebrate the Year of the Dog
with the Confucius Institute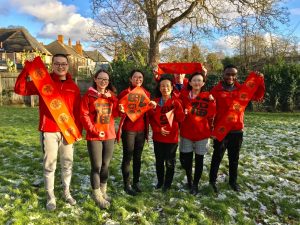 Chinese New Year falls on the 16 February, and to mark the Year of the Dog, we are running a variety of activities on campus.
A one-day Chinese language and culture taster session (0900-1530), where you can learn some basic Mandarin and have experience of making Chinese art and music, will kick off the celebrations on 9 February.
On 12 February, we're also holding our popular dumpling-making workshop. You can learn the skill of making northern Chinese style dumplings (jiaozi), and enjoy them over tea.
On 14 February there will be Chinese Hour, where you can join an informal Mandarin conversation session; and the Chinese Film Club with a special screening to mark the festive period.
A special concert performed by the CI's choir Chinese Whispers, will mark the finale of the celebrations on 12 March. Several school partners will also be participating in the performances to be held in Middleton Hall.
All events are free.
Booking is absolutely essential due to their popularity and limited places.
| | | | |
| --- | --- | --- | --- |
| Date | Event | Time | Location |
| Fri 9 Feb | Chinese Language and Culture Day | 0900-1530 | The Courtyard Multi Function Room |
| Mon 12 Feb | Chinese Dumpling-making Workshop* | 1200-1400 | The Courtyard Multi Function Room |
| Wed 14 Feb | Chinese Hour | 1600-1700 | Resources Room, Dennison Centre |
| Wed 14 Feb | Chinese Film Club | 1800-2030 | Conference Room, Dennison Centre |
| Mon 12 March | Chinese Whispers New Year Concert | 1700-1800 | Middleton Hall |
*Meat and nut based ingredients will be used
To book or learn more about our special Chinese New Year programmes, please get in touch with us.
Email: ciuh@hull.ac.uk Telephone: +44(0)1482 462197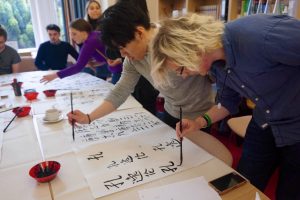 February Highlight – Chinese Language and Culture Day – Chinese New Year Special  – Free!
This one-day taster programme will cover some basic Chinese such as pronunciations, greetings, numbers as well as gaining an insight into Chinese culture. A complimentary lunch and class materials are included. All are welcome. Places are limited; please contact us to sign up or register your interests.
Nov 2017
13 November
Traditional Chinese Medicine Lectures
Are you interested in Traditional Chinese Medicine? Do you find acupuncture intriguing? Come along to our special lecture event on 13 November at , which takes place at Cohen 041 at 09:30-11:00, University of Hull. Two guest speakers, Professor Wang Yanhui and Professor Qian Xiaoyan, both from Xiamen University, China, will share their knowledge on acupuncture and auricular therapy, as well as demonstrating the technique of these century-old treatments. Call 01482-462197 to book your place or contact li.wang@hull.ac.uk for more details.
10 November
Chinese Language and Culture Day – Free!
We will be running our popular language and culture day throughout the year, to meet the demands. This one-day taster class will cover some basic Chinese such as pronunciations, greetings, numbers as well as gaining an insight into Chinese culture. A complimentary lunch and class materials are included. All are welcome. Please contact us to reserve a place.
6-10 November
Confucius Institute Day – Free!
Following the success of the Confucius Institute Day events last month, the Institute will roll out further language and culture programmes as a contribution to the Degree Plus + Week.The Confucius Institute will be holding a series of activities at various locations throughout the campus. Each day from 6-10 November, there are programmes for those who wish to learn some Chinese through cultural activities.Staff and students can get a hands-on experience such as making Chinese dumplings in the Master-Chef style kitchen at the Courtyard. Paper cutting, Chinese games. Chinese film screenings are also on offer during the week. The popular Chinese Language and Culture Day will take place on 10 October to mark the finale of the CI Week.All the CI Week events are free for students, staff as well as the general public.Booking is needed for some of the programmes; please see attached poster for more details. For further information, email ciuh@hull.ac.uk or ring 01482-462197.
Autumn/winter 2017 special
18 October/15 November/13 December   15:00-16:00
The Analects of Confucius – a lecture series by Dr Liu Aiju
The Analects of Confucius are a collection of teaching and thoughts of Confucius. They include twenty books, each generally featuring a series of chapters that encompass quotes from Confucius, which were compiled by his disciples after his passing. Dr Liu, a lecturer of Chinese Studies at University of Hull, will give an insight into the compelling story of Confucius and his philosophy. Everyone is welcome to attend. Location: G/F, Dennison Centre, Cottingham Road
June 2017
9 June   
Chinese Language and Culture Day 

March 2017
10 March
Chinese Language and Culture Day
1, 15 March
Movie nights at the Chinese Film Club  18:00-20:00
We run a Chinese Film Club every fortnight at the Confucius Institute, offering free film-screening sessions to everyone who enjoys movies as well as Chinese culture. After every session, we give a short, informal lecture and invite participants to have a lively conversation about the film. All sessions are free, coffee and tea are included. No need to book, just turn up. Location: Ground floor, Dennison Centre   
February 2017
10 February
2017 Manchester Chinese New Year Gala
Our Chinese Whispers Choir was invited to perform a couple of songs for the prestigious event as special guests, that took place at Manchester Central.
January 2017
20 January
Chinese Language and Culture Day
Our language and culture day is back by popular demand, and is launched as part of the Chinese New Year celebrations ( 2017 is the Year of the Rooster). This one-day taster class will cover some basic Chinese such as pronunciations, greetings, numbers as well as gaining an insight into Chinese culture. A complimentary lunch and class materials are included. All are welcome. Please contact us to book a place.
November 2016
1-30 November
Photo Exhibition – Time and Space in China: The Urban World of Beijing
Organised by the Confucius Institute at University of Hull, this impressive photo exhibition will be held in the newly renovated gallery at the Brynmor Jones Library. Please come and join us, and enjoy viewing an array of brilliant images of Beijing.
October 2016
18-21 October
Confucius Institute Week
To mark the decade of the founding of the worldwide Confucius Institutes, we are offering a wide range of free activities. From 18-21 October, our programmes will cover traditional Chinese crafts and sports, as well as a film screening held on different locations around the campus.
Feel free to contact us if you would like to take part or to have a chat.
17 October
Chinese Language and Culture Day – Free!
This one-day taster programme will cover some basic Chinese such as pronunciations, greetings, numbers as well as gaining an insight into Chinese cultutre. A complimentary lunch and class materials are included. All are welcome. Places are limited; please contact us to sign up or register your interests.
6 October
Intermediate Chinese Course – £120
For those who have learnt basic Chinese before but would like to enhance their language skills. Starting on 6 October, the intermediate course will also run for 10 weeks. To sign up and secure a place, please contact us.
4 October
Beginners' Chinese Course – £120
This evening course is designed for those who have little or no knowledge of the Chinese language. Lessons start on 4 October, and will run for 10 weeks with two hours of tuition each week. To sign up and secure a place, please contact us.
September 2016
15 September   
The Mid-Autumn Festival Day
To celebrate the Mid-Autumn Festival, aka Moon Festival, the Confucius Institute will be running a variety of programmes around the campus on 15 September. There will be an exhibition showcasing the origins and meanings behind this traditional festival, and how Chinese people gather together to make the most of this special day. We will also be offering a workshop, where you can learn to make traditional Chinese knotting crafts. The programme will be finished off with a moon cake tasting session and a moon-shaped fan dance presentation.
Contact
For more information on any of these events, or to register a place, please contact us:
Email: ciuh@hull.ac.uk
Telephone: +44(0)1482 462197
Please check our website and social media platforms regularly for updated details.