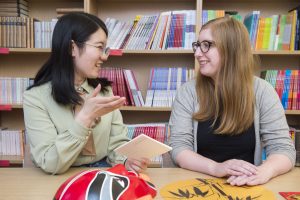 With Apologies as of March 2022
Chinese Hour still remains effected by COVID. Unfortunately we are still waiting on our replacement teachers to come over from China, and as such do not currently have enough staff to run Chinese Hour. We will continue running Chinese Language classes though, and hope to have Chinese Hour back in September 2022!
Announcement
Following the guidance of the Department of Health and Social Care and Public Health England, and the Government announcement  to stop non-essential contact with others and to work from home where possible, we have decided that all our classes and activities will be suspended with immediate effect.
Our sincere thanks for your understanding and patience as we all face this considerable challenge.
To complement our updates, please actively check and follow Government advice which includes guidance to protect yourself and about travel.
漢语时光 – Chinese Hour – Wed 4-5pm – Dennison Centre – Free to attend
Come along to our Chinese Hour for fun and informal conversation sessions, where you have the chance to practice your Chinese and develop an appreciation of Chinese culture. The weekly meetings are designed for students and the general public, providing a fun and relaxing environment to chat with fellow students, meet new friends, discuss Chinese language and culture, and learn about Chinese customs through food and games.
Our first sessions started in October 2016, and have already received lots of positive feedback from those who attended. Regular meetings take place at 4pm in the Dennison Centre on Wednesdays; please feel free to come and have a chat with us!
All are welcome, refreshments included.
Chinese Hour dates from March to April 2020 for your diary –
4th March 2020 Taste of Taichi 太极体验
11th March 2020 Chinese History 中国历史
18th March 2020 Some Differences Between North and South of China 中国南北差异
25th March  2020 Chinese Opera 中国戏曲
1st April 2020 Culture of Taoism 道教文化
8th April 2020 Chinese Calligraphy中国书法
Location: Tianjin Room, Dennison Centre, Cottingham Road, Hull, HU5 2EG
To learn more, please contact our Confucius Institute office at +44(0)1482 462197 or email us ciuh@hull.ac.uk.