The HSK, short for Hanyu Shuiping Kaoshi in Mandarin, is a standardised exam that tests and rates Chinese language proficiency. It is available world-wide in various academic settings, with six HSK levels to assess non-native Chinese speakers' abilities in using the Chinese language.
As one of the official HSK test centres, the Confucius Institute at the University of Hull offers opportunities for those who wish to take HSK Chinese proficiency tests locally without having to travel far. We also work with local schools and provide venues for children who take YCT (Youth Chinese Test) in our well-equipped classrooms.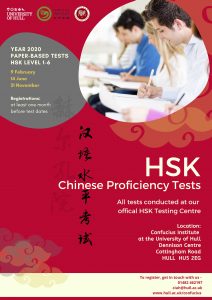 We take registrations and collect exam fees, helping candidates go through the whole process with convenience and ease.
Official HSK and YCT exams take place monthly. The Confucius Institute at the University of Hull aims at providing a test centre for the local community every three months.
Further test dates for your diary –
Paper-based Tests HSK 1-6:
9 February 2020
14 June 2020
21 November 2020
Telephone 01482 462197 or email ciuh@hull.ac.uk for an application pack and further details.
For those who have passed their HSK Level 3 test, and wish to apply for a Hanban Confucius Institute Scholarship, may see the following link for further details:
http://cis.chinese.cn/account/login