Professor Li Sumin
Co-director
Sumin.Li@hull.ac.uk
+44 (0) 1482 462196
Professor Li Sumin has a PhD in Education, and is the former Dean of the Faculty of Education at Tianjin Normal University, China. Her main teaching and research fields are in comparative higher education, and the history of foreign education and higher education. She has published several books, and over sixty academic papers.
She is currently on secondment to the Confucius Institute at the University of Hull, and will be looking at innovative ways to enhance the teaching of Chinese language to the CI's wide range of students – from local school children through to those from the wider community.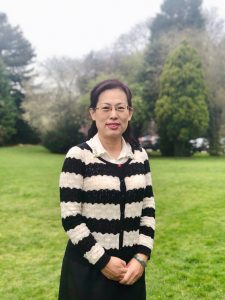 Wang Zhiling (Cathy)
Senior Mandarin Teacher
Zhiling.Wang@hull.ac.uk
+44 (0) 1482 462197
Cathy graduated from Tianjin Foreign Studies University with a BA, and then Tianjin Normal University with her MA. She now works at Tianjin Normal University teaching English Listening and Children's Second Language Acquisition, in the Primary Education College of Tianjin Normal University. She has worked as a tutor in primary schools and as a mentor for her students' internships.
Cathy is now a qualified mandarin teacher in Confucius Institute at University of Hull teaching Chinese Listening and Speaking and Chinese course in Confucius Institute. She manages the Teaching Team and co-ordinates all in-house teaching of CI programmes.

Yan Song (Ryan)
Senior Mandarin Teacher
Song.yan@hull.ac.uk
+44 (0) 1482 462197
Yan Song, taught in Foreign Languages College, Tianjin Normal University as a tutor for over nine years before moving to the Confucius Institute at the University of Hull in 2019. He then worked as a Mandarin Teacher on the Chinese Grammar course and Aural & Oral course for undergraduates. 
His research interests broadly relate to linguistics and translation practice. More specifically he is interested in English-Chinese Translation and the Classical Chinese Literature translation evaluation.