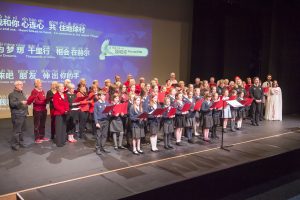 The Chinese Whispers™️ Choir 回音壁合唱团
The Chinese Whispers™️ is the Confucius Institute's award-winning project (Higher Education Academy – Collaborative Award for Teaching Excellence 2016).
The project aimed at:
*  developing an understanding of language learning through music
*  defining an innovative pedagogic approach focused on mindful listening
*  sharpening transferable skills
*  embedding internationalisation within a music curriculum
*  exploring new ways to reach out beyond disciplinary and sector boundaries
*  increasing student employability
It started as a collaborative project involving academics from two disciplines (music and languages), diverse cultural backgrounds, various professions (choir master, composers, music conductors, teacher trainers and technicians), and different stages of the educational journey (students, teachers, lecturers and professors). It is now extended to include schools as well as other musicians and linguists outside the academic community.
If you are interested in joining the project please contact us at ciuh@hull.ac.uk