Mandarin and Chinese Calligraphy courses
*We still have places available. Contact us if you would like to sign up.

October Classes
The Confucius Institute at the University of Hull offers Chinese (Mandarin) language classes at different levels. All language courses will run for 10 weeks with two hours of tuition ( 6:30-8:30pm) each week. Fee for all courses: £120.
9 Oct – 11 Dec – Beginners Chinese Levels 1,2,3
This course is designed for those who have little or no knowledge of the Chinese language.
9 Oct – 11 Dec – Intermediate Chinese Levels 1,2,3
This course is offered for those who have learnt basic Chinese before but would like to improve their language skills. Those who are able to communicate in everyday Chinese, or have completed our Beginners Chinese course are also encouraged to sign up.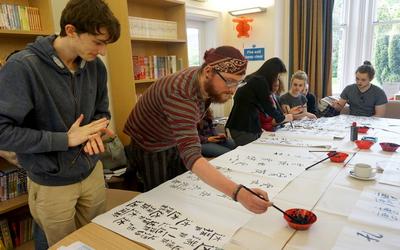 11 Oct – 13 Dec – Advanced Chinese Levels 1,2,3
This course offers more advanced lessons to those who can speak, read and write some Chinese but wish to have a deeper understanding of the language. Students who completed our Intermediate Chinese course can benefit from this advanced module and progress further.
10 Oct – 12 Dec & 12 Oct – 14 Dec – Chinese Calligraphy This course is for those who would like to explore the ancient art form, using ink slabs, brush pen, and traditional paper to create artistic characters and painting. No previous knowledge of Chinese language or calligraphy skills needed.
There are two groups for this course, one for the afternoon and one for the evening. Wednesday's group – 14:00-15:45; Friday's group – 18:30-20:15. Please let us know which group you would like to sign up for.
25 January 2019 – Chinese Language and Culture Day – Free!
This one-day taster programme will cover some basic Chinese such as pronunciations, greetings, numbers as well as gaining an insight into Chinese culture. A complimentary lunch and class materials are included. All are welcome.
To learn more about all our classes, please get in touch with us.
Email: ciuh@hull.ac.uk Telephone: +44(0)1482 462197