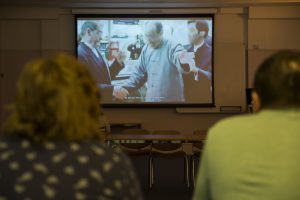 Every semester, we offer a number of film screenings for those who are into Chinese culture as well as movies. These sessions take place in our Confucius Institute base at the Dennison Centre.
At the end of each screening, there is an informal lecture/discussion. Everyone is encouraged to talk about the film, share ideas, and ask questions.
All are welcome. No need to book, just turn up.
Bi-weekly sessions starting at 18:00-20:30.
8 May  The Silent War 听风者
22 May  The Wandering Earth 流浪地球
5 June  The Ghouls 寻龙诀
19 June  Never Say Die 羞羞的铁拳
3 July  Lost, Found 找到你
Location: Conference Room, Dennison Centre, Cottingham Road, Hull, HU5 2EG
Please ring 01482-462197 or email ciuh@hull.ac.uk for further details.