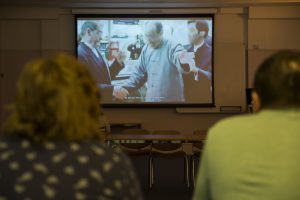 Every semester, we offer a number of film screenings for those who are into Chinese culture as well as movies. These sessions take place in our Confucius Institute base at the Dennison Centre.
At the end of each screening, there is an informal lecture/discussion. Everyone is encouraged to talk about the film, share ideas, and ask questions.
All are welcome. No need to book, just turn up.
Fortnightly sessions starting at 18:00-20:30.
16 October  Masters in the Forbidden City 我在故宫修文物
30 October  Mountains May Depart 山河故人
13 November  Eat Drink Man Woman 饮食男女
27 November  Baby 宝贝
11 December  Battle of Memories 记忆大师
Location: Conference Room, Dennison Centre, Cottingham Road, Hull, HU5 2EG
Please ring 01482-462197 or email ciuh@hull.ac.uk for further details.